About us
Manufacture of transport equipment
And product handling
What we do
MDF is a leading Spanish company in the manufacture of equipment for the handling and transport of solid products: auger conveyors, chain conveyors, bucket elevators and everything related to maintenance and conveyor belts.
Experience
We have more than twenty years designing and manufacturing full installations or specific equipment according to the needs of each customer, providing solutions for a wide sector of industry:
The food industry
The chemical industry
Purification and recycling
Biomass
Mission and strategy
The extensive experience that we have accumulated over the years and our highly qualified team allow us to provide customised solutions and a comprehensive service. Including the conception, design, manufacture, installation, testing and commissioning of all machinery, which is always coordinated along with the needs of each customer and with maximum flexibility.
Methods
We possess the most advanced technology for the manufacture any type of auger without size limitations, with large diameters and thicknesses, in carbon steel, stainless steel, anti-wear steel, etc…
Exquisite finishes
Thanks to the constant development of our technology and our extensive experience in the manufacture of augers, we are able to produce augers with high-quality finishes (pickling and passivation, electropolishing, special polishing).
Advanced welding
We have an automated system which welds augers without interruption along their entire length, thus guaranteeing a homogeneous welding that is totally free of porosities.
MDF welders and welding procedures are certified according to UNE EN-283 i EN-287.
Reduced production time
We have considerably reduced delivery times due to the fact that we have our own production system for the manufacture of windings.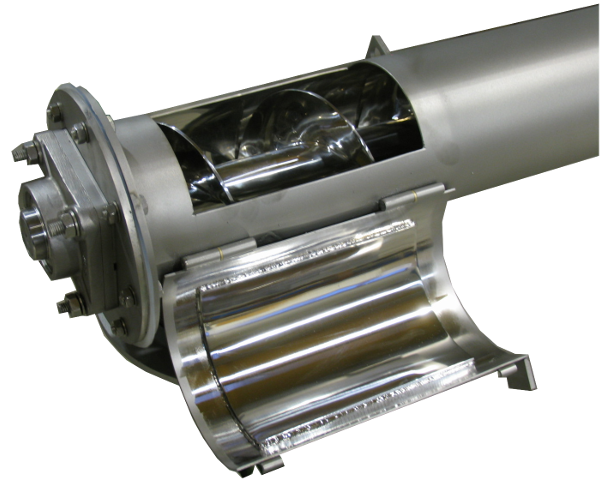 R+D+I
The most advanced technology
Our technical department is constantly engaged in the improvement of our products, always innovating in order to obtain a satisfactory result, developing new products and technologies, optimising all the production processes and training and involving our staff in a common project.
None of this would be possible without our eagerness to overcome adversity and our awareness that this is one of the most important pillars of the company.
This is why we are committed to a maintaining an up-to-date and ongoing training program that enables us to always meet the demand for quality.